A highly important and rare line bracelet by Tiffany & Co. Circa 1920, this incredible piece is set with 44 carre cut Burma sapphires – ALL GEM quality – weighing 21 carats. Exceptionally well matched, each sapphire has been pulled and re-polished by an expert old world bench jeweler in London. Put quite simply, these are the best of the best Burma sapphires – – Tiffany could simply not produce this piece today (new) as these sapphires are just not available (without, of course, finding matching stones in estate pieces and creating the bracelet – – a very difficult task). This is a true Art Deco period, original, Tiffany & Co., Burma sapphire line bracelet. If Tiffany were to sell today, it would be AT MINIMUM $130,000, but likely MUCH more – – there is a definitive and justifiable premium for fine period Tiffany jewelry, with the finest materials and craftsmanship being just unmatched in modern jewelry.
Expertly hand engraved platinum mount, full safety chain running length of bracelet, double-locking clasp (locking perfectly)…it doesn't get much better than this… Highly important, extremely rare, most certainly in the top 10% of fine Tiffany gemstone bracelets ever created…another very fine example of Tiffany's unrelenting commitment to excellence…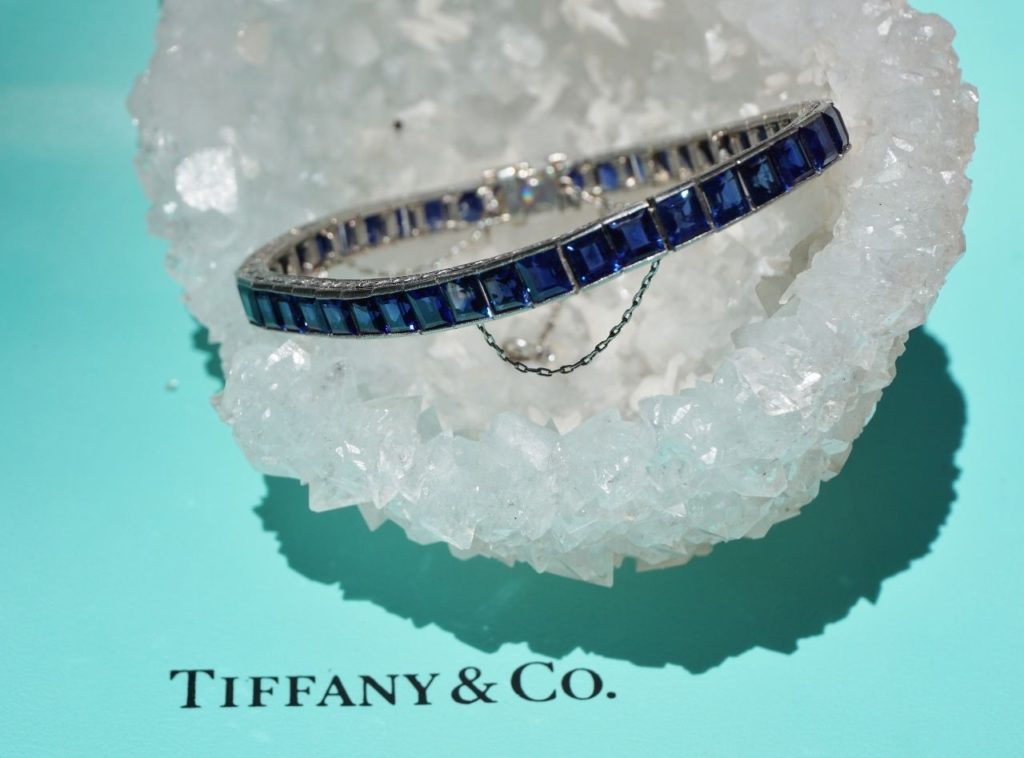 Platinum
Art Deco, Circa 1920
44 Carre Cut Burma Sapphires
21 Carats Total Weight
7.25 inches
5.25mm in Width
Exceptionally Well Matched!
All sapphires have been individually pulled and polished and expertly re-set in bracelet.
Signed: Tiffany & Co. (on tongue)