Radiance earrings with 6.65ct & 6.49ct square emerald-cut white diamonds set with pink diamonds and pear shape white diamonds, in 18ct white and rose gold. By David Morris The London Jeweller.
White Diamond Weight 41.84ct
Pink Diamond Weight 3.66ct
A Gorgeous pair of Emerald hoop earrings 18kt gold. Shay founders Tania and Ladan Shayan riff on Art Deco tropes with these 18kt gold hoop earrings. They're handmade in the label's Los Angeles atelier, where they're adorned with emeralds totaling 8.80ct hewn to baguette cuts – a gemstone shape popularized in the 1920s – and claw-set in backless settings to let the light through. Wear them to bring a pop of color to a variety of looks.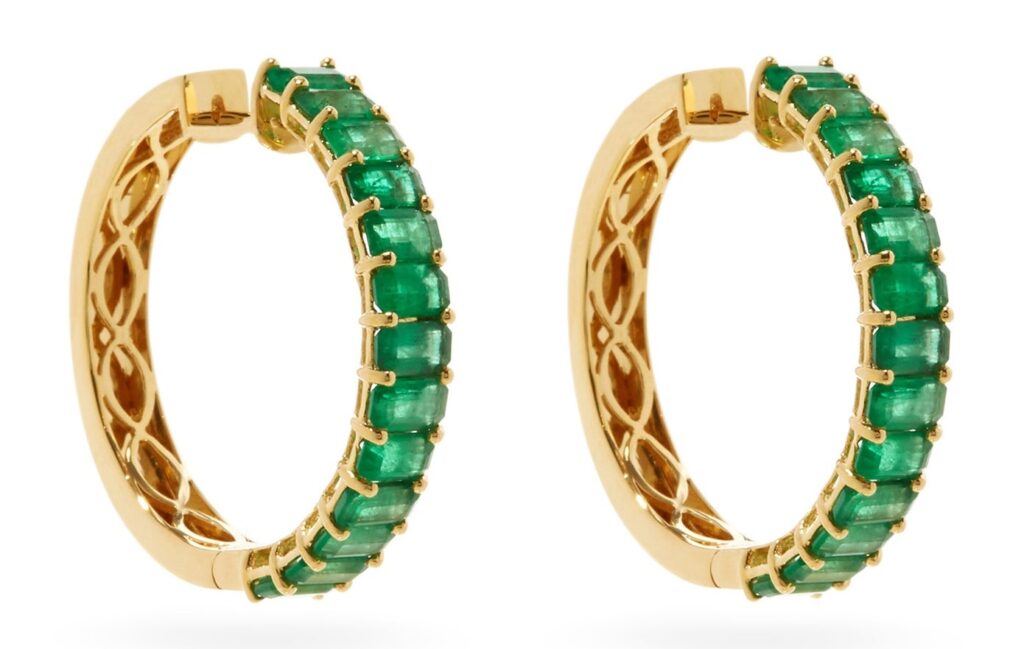 A Gorgeous pair of 5.54ct Diamond and Emerald Hoop Earrings 18K White Gold.
A Gorgeous pair of Created Emerald and Diamond Accent Modern Filigree-Side 5/8″ Hoop Earrings 14K Gold
A Gorgeous pair of 18kt rose-gold and tourmaline drop earrings. Color is one of Irene Neuwirth's signatures, and these 18kt rose gold earrings offer a sublime showcase of her artistry. They're made in the USA with a faceted pink crystal and a polished drop of pink and brown tourmaline, then frosted with white diamond pavé along the hook fastening. Try styling them as the sole accessory to a jewel-tone satin dress.