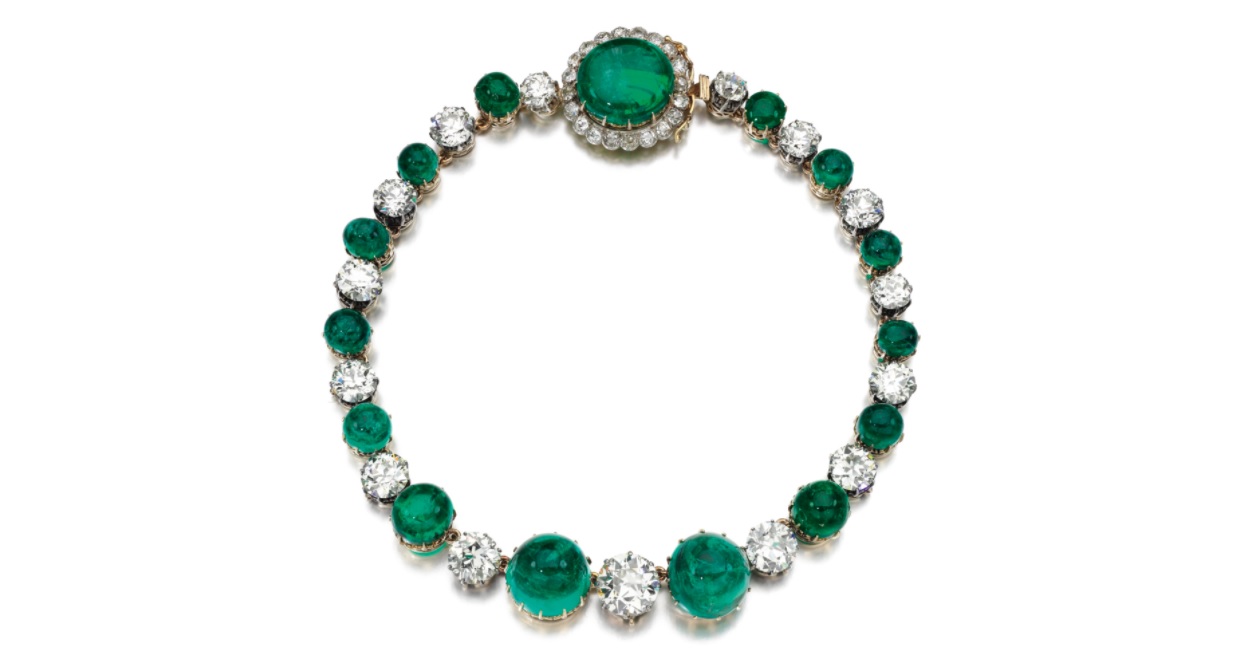 Composed of a line of cabochon emeralds alternating with cushion-shaped and circular-cut diamonds, the clasp highlighted with a cabochon emerald framed with circular-cut diamonds, length approximately 385mm, detaches into twenty-five motifs.
The magnificent emerald and diamond necklaceoffered in this sale comes from the collection of the Italian princely family Odescalchi. By family tradition, this jewel was part of the corbeille de mariage of Vittoria Balbi Senarega, a gift from her husband, Prince Innocenzo Odescalchi, on 2 February 1913. The familial legend further says that the prince purchased the emeralds in Paris through an intermediary of an Indian maharaja.
Princess Odescalchi had an astonishing collection of emerald jewels. In a picture taken in 1938 by the court photographer Petri of Rome, taken on the occasion of a reception at the Royal Palace in Rome (illustrated opposite9, the Princess is portrayed wearing some of her amazing jewels. For the occasion, she paired the emerald and diamond necklace offered her with an important tiara and several brooches and devants de corsage which cover the bodice of her dress. After the Princess passed away in 1965, her jewellery collection was divided, and the devant de corsage was separated into brooches, the tiara was remodelled, but the necklace, the pair of earrings and the bracelets remained intact. The jewel offered in this auction is a testimony to the great taste and support of the arts of this princely family.
The Odescalchi family were great patrons of the art. In 1676, Benedetto Odescalchi became Pope under the name Innocent XI. After his death in 1689, his sister Lucretia inherited the family fortune. In 1714, her grandson, Baldassare Erba-Odescalchi, was given the titles of Prince of the Holy Roman Empire, Serene Highness, and Duke of Syrmia in the Kingdom of Hungary. In 1745, he acquired the palace in Piazza Santi Apostoli in Rome. The palazzo, with its façade designed by Gian Lorenzo Bernini, was then enlarged by the architects Nicola Salvi and Luigi Vanvitelli. The family tradition of supporting the arts continues to this day. In 1952, Prince Livio Odescalchi opened the Bracciano Castle as a museum. The imposing building has been in the family since 1696 and is one of the most important examples of military Renaissance architecture in Italy.
Available at Sotheby's Auction

Accompanied by SSEF report no. 91481, stating that the five tested emeralds are of Colombian origin, with a minor and a moderate amount of oil in fissures respectively.

An Impressive Emerald and Diamond Necklace