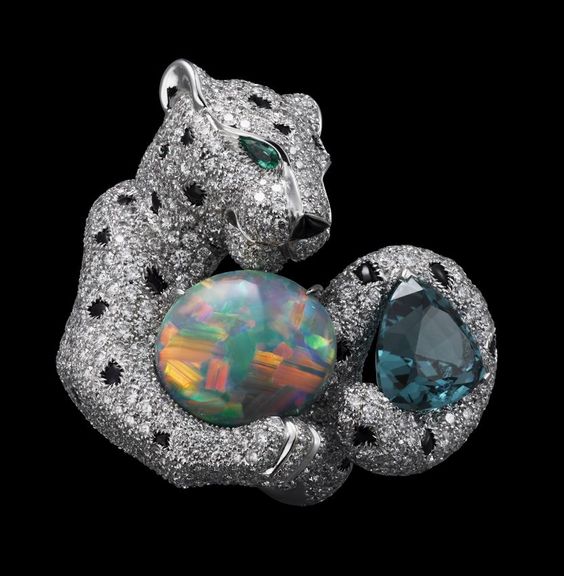 PANTHÈRE DE CARTIER HIGH JEWELRY RING White gold, one 3.59-carat indigolite tourmaline, one cabochon-cut opal, onyx, sapphire spots, emerald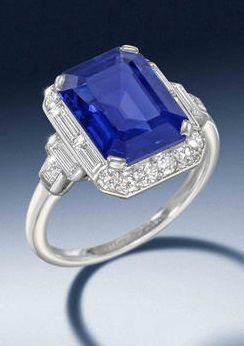 An Art Deco sapphire and diamond ring, by Cartier, circa 1930. The cut-cornered step-cut sapphire, weighing 5.34 carats, within a surround of single and baguette-cut diamonds, mounted in platinum, signed Cartier London, numbered, maker's case.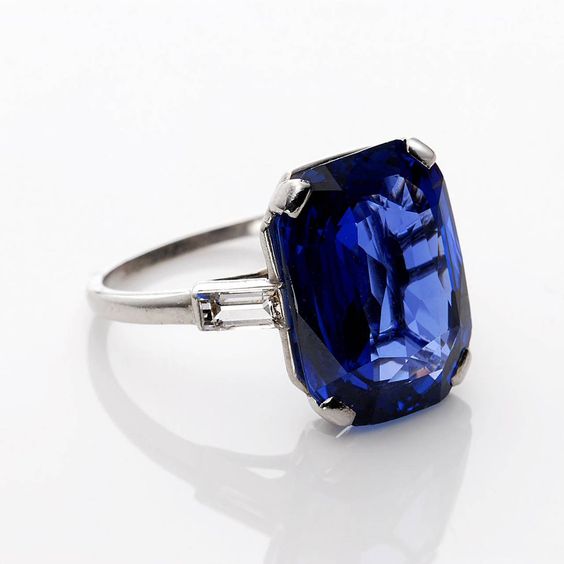 Cartier 14.55 Carat No Heat Sapphire Diamond Platinum Ring accompanied with Baguette-cut diamonds mounted in platinum. Circa 1920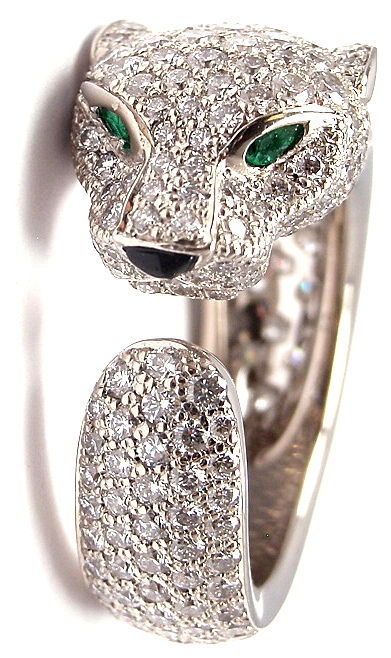 Cartier Panther Onyx Emerald Diamond White Gold Ring. 18k White Gold Panther Diamond, Emerald, and Onyx Ring by Cartier. With 250 brilliant cut paved diamonds, VVS1 clarity E color, emerald eyes, onyx nose. This ring comes with an original Cartier box.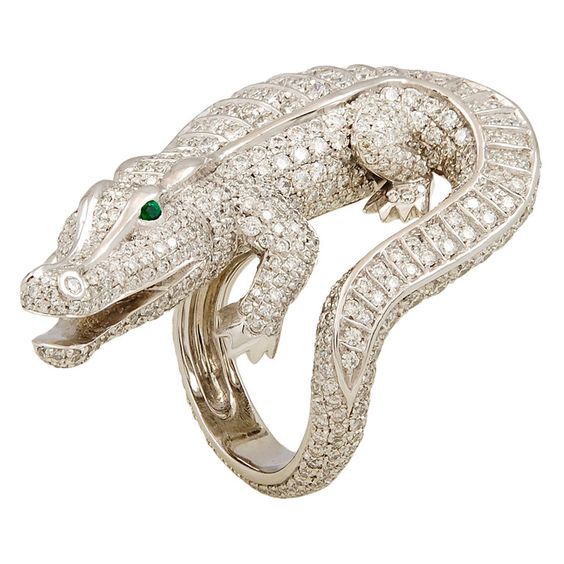 CARTIER Diamond & Emerald Alligator Ring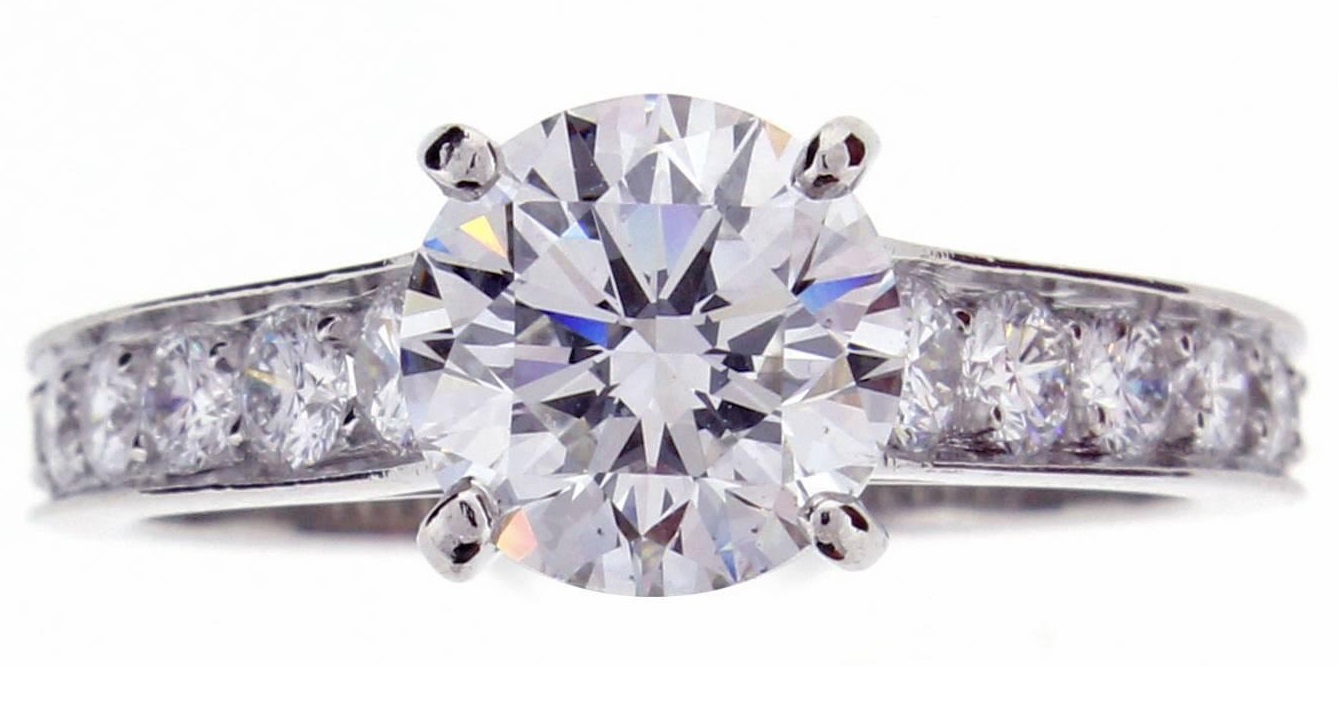 The Cartier solitaire has been a classic since 1895. The elegance of the lines is unique, the refined and gentle setting allows the light of the diamond to flow freely. The brilliant Cartier diamond weighs 1.50 carats. The diamond is H Color, VS2 clarity and has an excellent cut grade. The 18 additional diamonds weigh .61 carats. Set in platinum.
A vibration of color radiates from this ring with brilliance and design from Cartier. Fashioned with a puzzle of diamonds, emeralds, rubies and sapphires that fit perfectly with symmetry and balance. Crafted in 18k Gold. Signed Cartier, numbered and stamped with French hallmarks.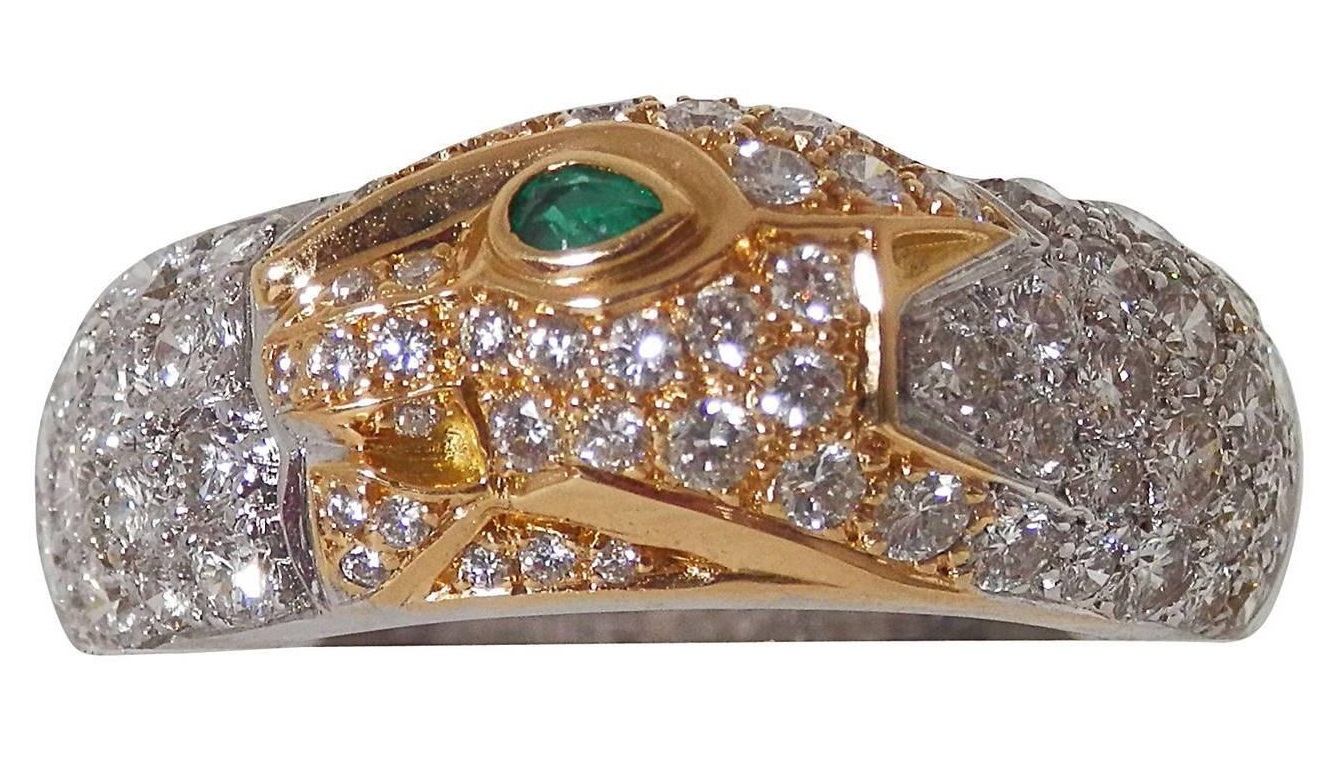 In 18K gold, an emerald eyed Panther in yellow gold is set off with a white gold diamond surround. The ring is a size 6 1.2 and can be sized. It is signed Cartier, numbered EO8573 and is dated 1996. The shank varies from 6.0 to 8.4 mm It possesses a French hallmark and a Cartier hallmark. The pear cut bright green emerald eye measures 6.85 by 5.7 mm.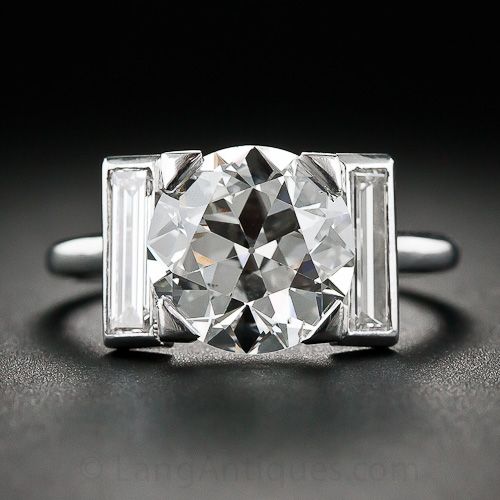 Cartier 3.28 Carat Art Deco Diamond Ring A rare and ravishing beauty. From Cartier-Paris, circa 1930s, a gorgeous, bright-white European-cut diamond, weighing 3.28 carats, sizzles between a pair of long and slender straight baguette diamonds (.50 carats total) set in platinum.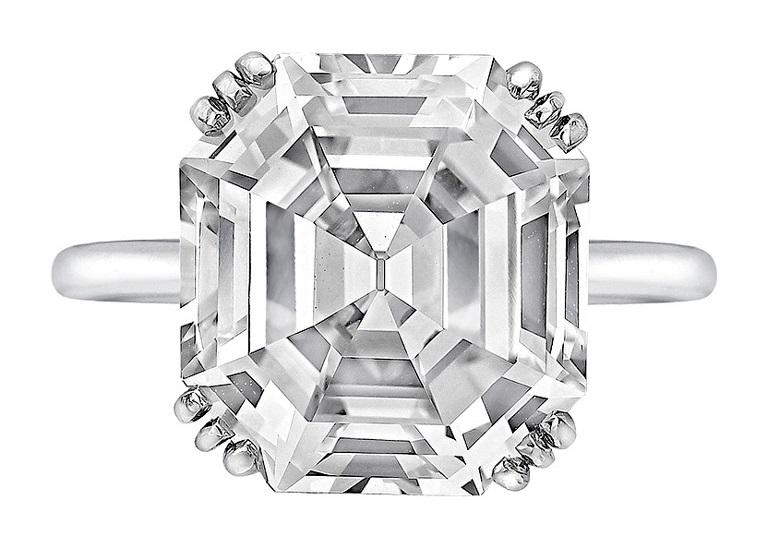 Diamond solitaire ring, centering on an asscher-cut diamond weighing 8.06 carats, signed Cartier. Comes with GIA certificate and Cartier ring box.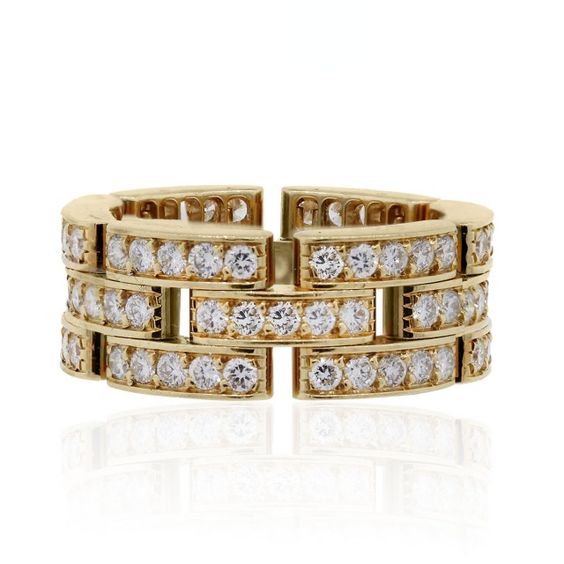 The Cartier Panthere Maillon diamond ring is a bold and striking accessory you can wear every day.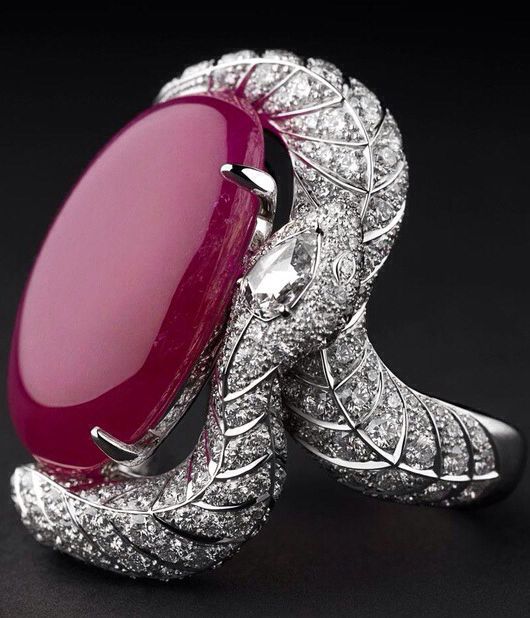 Gorgeous Ruby and Diamond Ring that Cartier used Paris Couture week to unveil a staggering half of what will be their Biennale collection. Cartier Luxuriant ring – Platinum, one cabochon-cut 36.74-carat ruby, one pear-shaped rose-cut diamond, brilliants.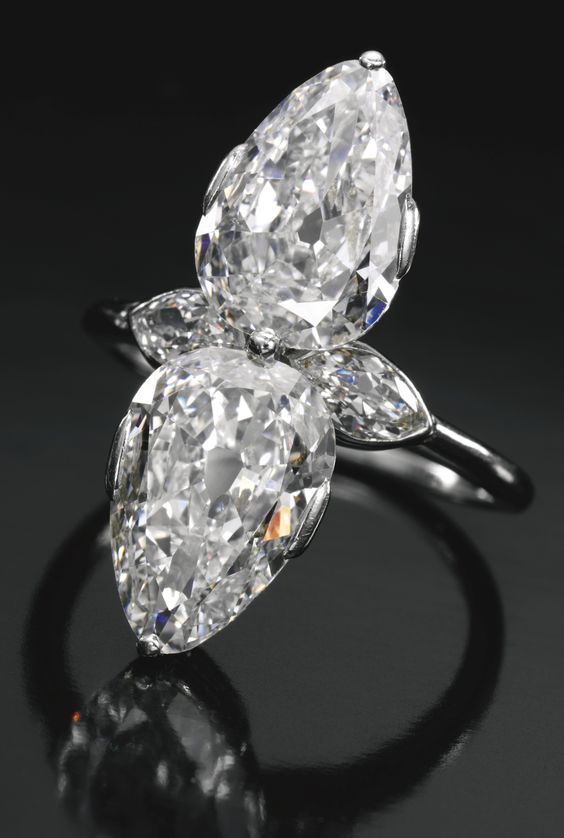 PROPERTY FROM THE ESTATE OF MARY, DUCHESS OF ROXBURGHE – Diamond ring, Cartier, 1930s, set with two pear-shaped diamonds weighing 2.31 and 2.34 carats respectively, further accented with two marquise-shaped diamonds, size L, signed Cartier London, case stamped Cartier Paris.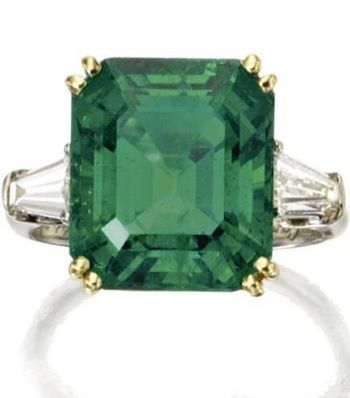 Cartier Colombian emerald and diamond ring, Sotheby's | dazzling Selection of Cartier jewelry.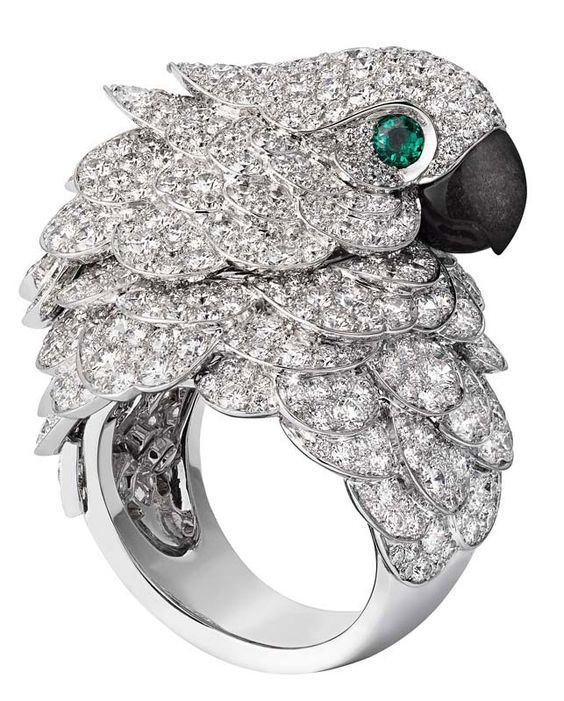 Cartier Fabuleux parrot watch and ring; watch and ring in rhodium-plated white gold set with brilliant-cut diamonds, beak in mother of pearl, eyes set with emeralds.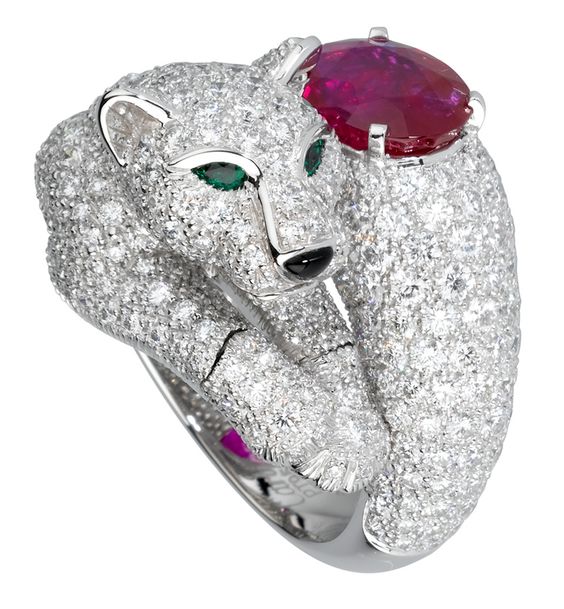 Cartier Diamond Panther ring that Cartier loaned to Madonna and her team for the filming of W.E. about the life of Wallis Simpson, the Duchess of Windsor.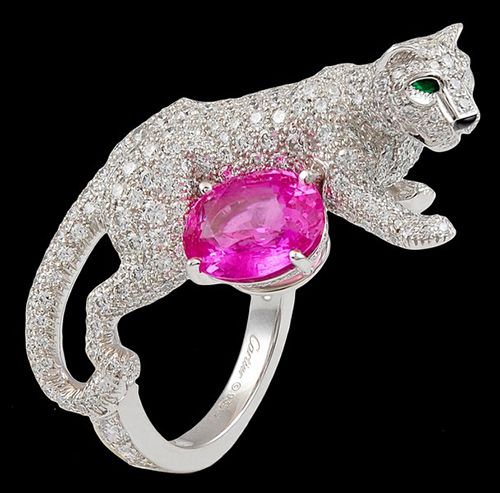 CARTIER Diamond & Pink Sapphire 'Panther' Ring.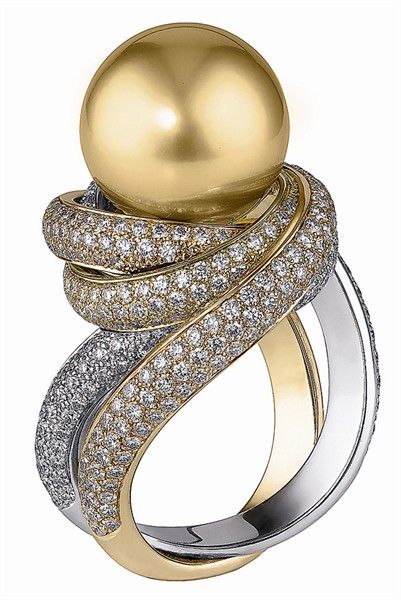 Cartier Trinity pearls ring. Yellow gold, pink gold, white gold, gold pearl, diamonds.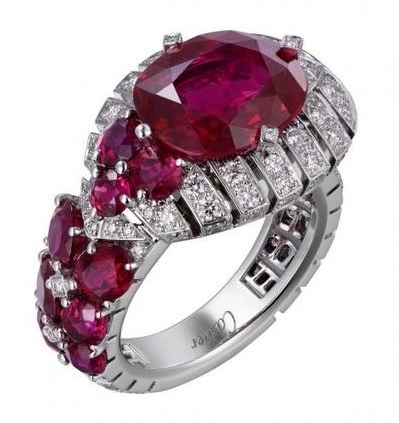 Cartier Ring in Platinum with Rubies and Diamonds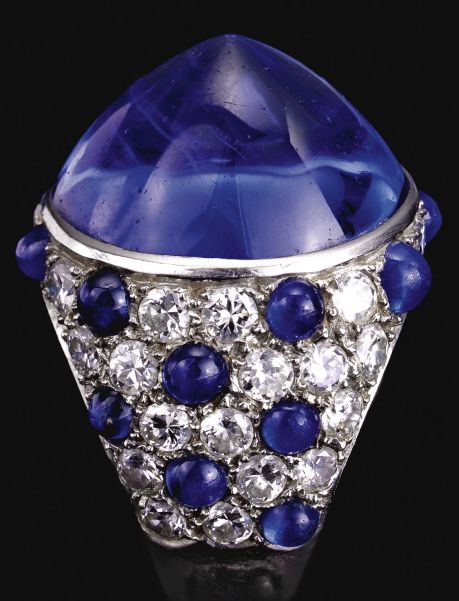 An Art Deco cabochon sapphire and diamond ring, probably by Cartier, circa 1930. The circular cabochon sapphire collet-set to a surround of circular-cut diamonds decorated with cabochon sapphires, mounted in platinum, French assay and indistinct maker's marks.