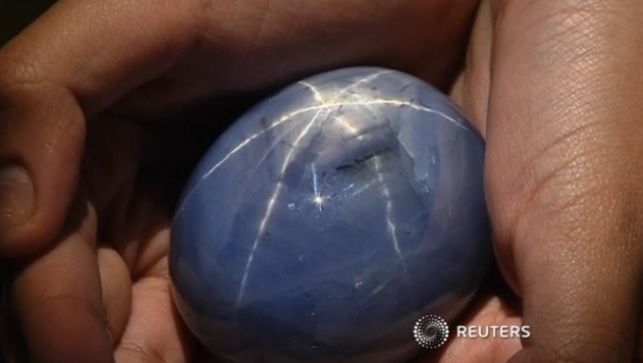 A group of gemologists have claimed that the world's largest blue star sapphire has been discovered in a mine in Sri Lanka. The gem, which was mined in the city of Ratnapura in southern Sri Lanka, has been certified by gemologists in the country's capital, Colombo, as weighing 1,404.49 carats. The previous blue star sapphire record holder weighed 1,395cts. The gem is valued at around $100 million but according to the BBC the current owner estimates that it could sell for up to $175 million at auction. The tropical island of Sri Lanka is considered a paradise by many. In fact, it is a common Muslim belief that the Prophet Adam traveled to Sri Lanka to live out his days after he was cast out of Eden. That's why the anonymous owner of the world's largest blue star sapphire, recently discovered in a Sri Lankan mine, has named it the Star of Adam. The gem weighs in at a staggering 1,404 carats, and is said to be worth north of $300 million. Unconfirmed reports suggest that the amazing blue star sapphire was found in a mine near Ratnapura, Sri Lanka in late 2015, and has just now been publicly revealed. Of note, Ratnapura is the capital city of Sabaragamuwa Province, and is nicknamed the city of gems. The unique feature of blue star sapphire is that while they appear opaque on casual inspection, when placed under a relatively bright light, it will show a perfect six-pointed star in the center of the gem.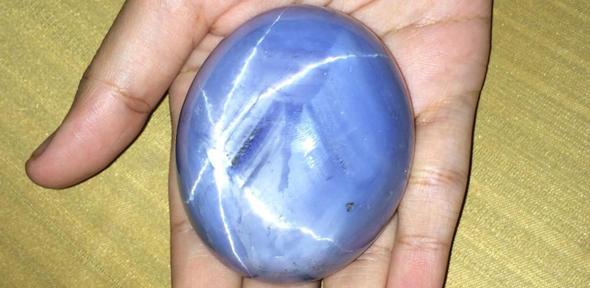 Sri Lanka (formerly Ceylon) is an island southeast of India with unusual geological origins. Almost 90% of Sri Lanka sits on Precambrian formations that are close to 2 billion years old, and these ancient upwellings contain deposits of high quality gemstones at various locations across the islands. Most of the biggest and best gem-quality stones are found in the highland mountains of the country associated with extremely old alluvial deposits. Sri Lanka is known for its abundance of gemstones and is famous for its blue sapphires, star sapphires, and cat's eyes. Most of the gems are eroded from streams in the mountains and then flowed down into sand beds of ancient rivers. These sand beds turned into sedimentary rock over millions of years. The gemstones eventually "weather out" of the sandstone-type rock surrounding them, and since they are harder than the rock, they withstand the test of time and usually their original size. Miners have searched the riverbeds of the country for centuries, and this new discovery is more proof that there are still more large gems to be found.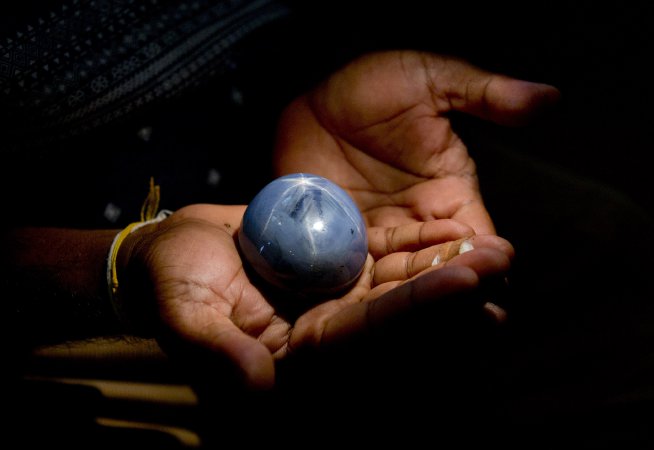 The owner of the record blue star sapphire would not say how much he paid for the gem or who he bought it from. "The moment I saw it, I decided to buy. I suspected that it might be the world's largest blue star sapphire. So I took a risk and bought it," he told the BBC in a recent interview. He said he calls the gem "The Star of Adam" because of the Muslim belief about the biblical Adam traveling to Sri Lanka.
Sri Lanka's Minister of Industry and Commerce Rishad Bathiudeen noted that gem exports had increased by 135% over the last few years, from $70 million in 2010 to $165 million in 2014.
"It is projected that the global gem and jewelry demand would increase at an annual rate of 6% till 2020," Bathiudeen commented a few months ago. Gem industry experts note the increase in demand for blue star sapphires demand is likely related to interest in the Duchess of Cambridge's engagement ring, formerly owned by the deceased Princess Diana, which includes a massive Ceylon Blue sapphire. According to the National Gem and Jewelry Authority of Sri Lanka, publicity surrounding the British royal ring has been a major boon for Sri Lankan sapphires. Gemological Institute of Colombo (GIC) certified that they have found the largest Blue star sapphire in Sri Lanka. This gem weighs 1404.49 carats. The gem holds the value of at least $100m. This gem was mined in the city of Ratnapura, Sri Lanka. The current owner of this gem has named it The Star of Adam. Blue star sapphires are named blue star because of the distinctive mark found at their center. This is to note that Ratnapura in Sri Lanka is also known as the City of Gems. Until now, the previous record holder of having largest blue star sapphire weighed 1,395 carats. On the other hand, in 2013, a 17kg (2st 9lb) rock containing sapphires was also found but the final weight of the gems inside it was not stated.
Sri Lanka is already known for naturally occurring gems. Geologically, ninety percent of the rocks present in Sri Lanka are of Precambrian age (i.e. about 560 million to 2,400 million years old). This aspect of Sri Lanka makes it a country where rich sedimentary residual gem deposits can be found. Sri Lanka is known in world for its blue sapphires. These blue sapphires from Sri Lanka are also known as Ceylon Sapphire.
Before Blur Star Sapphire, a gem named Star of India was also mined in Sri Lanka. The Star of India was claimed to be one of the largest star sapphire in the world. The Star of India weighed 563.35-carat (112.67 g) and it is currently kept in the American Museum of Natural History in New York City, USA.