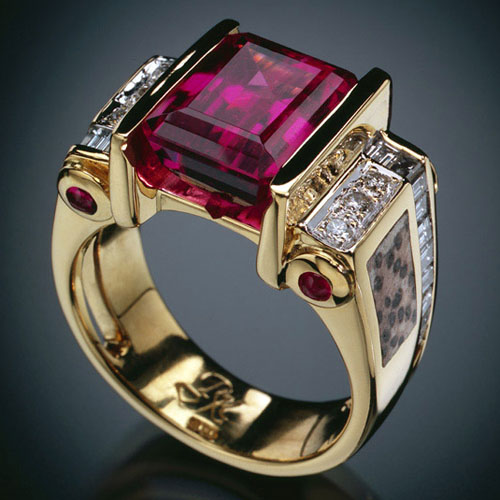 These rings are some of the most wonderful creations of art jewelry you will ever see.  The designs create a unique sense of appreciation for each individual ring that is created.  True inspiration and passion go into designing and creating each one of these masterpieces.  Not only does articulate precision go into making these rings, but a flair and love for what the designer feels from deep inside. Randy Polk Jewelry is a family affair. Randy and Kitsana Polk, husband and wife, both share a passion for fine jewelry and are the designers responsible for the fine art jewelry seen here, in their gallery in Fountain Hills, Arizona, and at art shows and events featuring exclusive jewelry nationwide.
Over the years, dozens of worldwide news stories have featured their exciting new design concepts for fine jewelry. Today, they continue that tradition, blending a contemporary Southwestern flair with splashes of color. They then add diamonds and round off the creation with both exotic and familiar colored gems – mixing the best features of the Southwest with the finest of European gem setting.
The end result is fine art – beautiful combinations that are always distinctive and never commonplace. We believe that life is too short for boring jewelry and that one shouldn't settle for what the rest of the world is satisfied with. Jewelry can and should be fine art.
Some have even compared Randy's designs to the most famous jeweler of all time, the late Carl Fabergé. It was Fabergé, official jeweler to the czar of Russia, who elevated jewelry-making to an art form. He created elegant designs that featured rare and unusual gem materials whose colors perfectly harmonized with the center stones.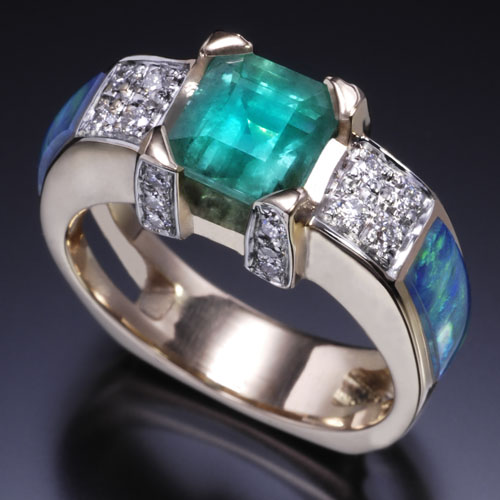 A sparkling natural Colombian emerald center stone with harmonizing inlay of fine Australian opal, embellished with 24 pave diamonds.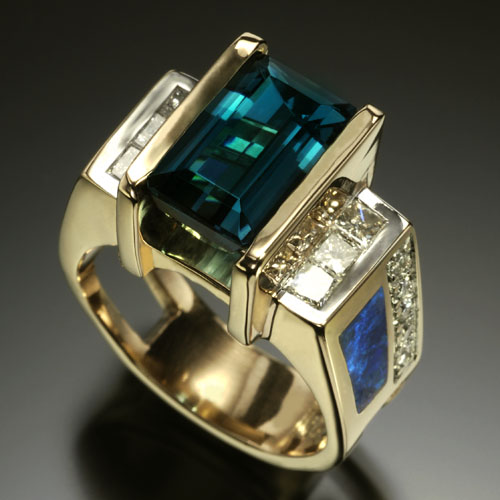 A rare, deep blue Brazilian indicolite tourmaline enhanced with inlay of fine Australian opal. Six channel-set princess diamonds and 12 channel-set round diamonds.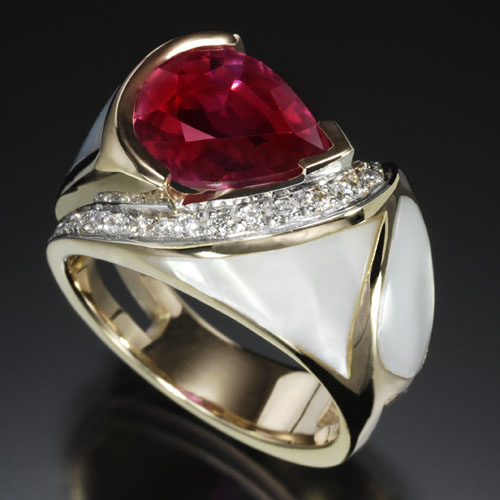 A brilliant hot-pink sapphire center stone is enhanced with white mother-of-pearl inlay and pave Diamonds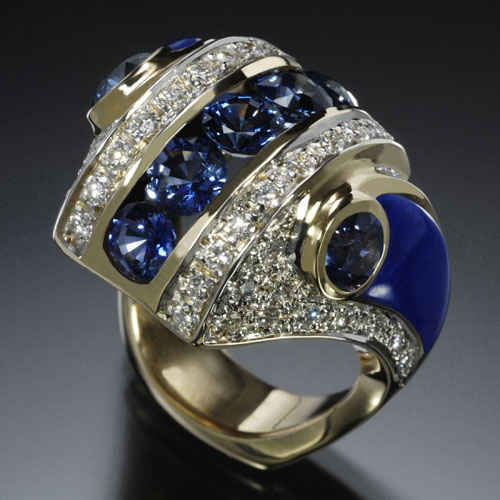 Six diamond-cut channel-set sapphires run down the center, surrounded by 60 pave diamonds and lapis inlay. Two tube-set sapphires form the eyes to create the majestic frog ring.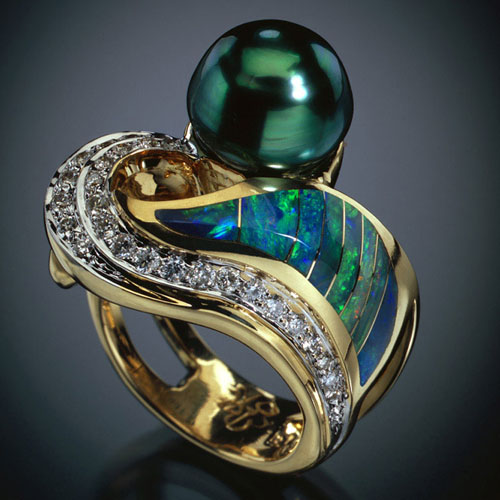 The gorgeous shooting star design with a striking 10 mm Tahitian black pearl, Australian opal inlay and 21 diamonds.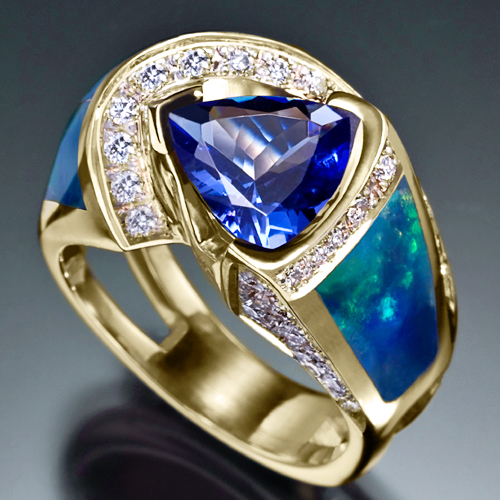 Surrounded by masses of pave diamonds, a spectacular 2 Ct tanzanite trillian catches blue and green highlights from Ethiopian opal inlay on both sides.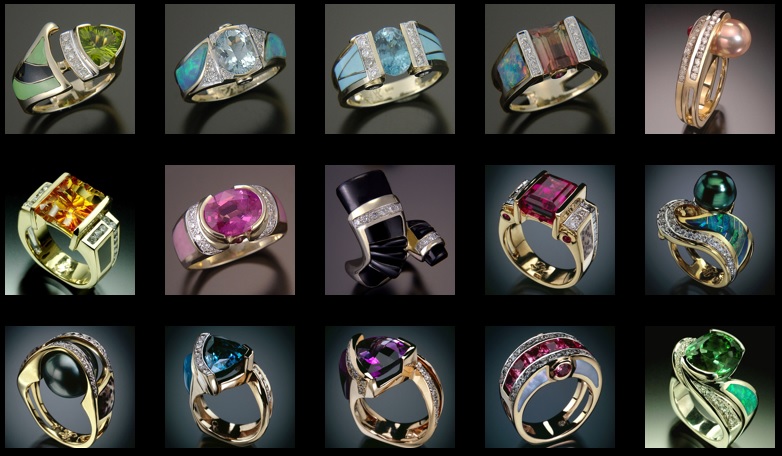 Randy's designs prove that even understated and somewhat traditional designs can have sizzle and excitement beyond the sum of their parts. Traditional standards of beauty can be interpreted in fresh ways, so classical styling never needs to be boring, unimaginative, or lifeless. Breathtakingly beautiful. Randy's designs feature brilliant center stones, surrounded by glittering rows of diamonds and perfectly matching inlay. Shape, color and texture embrace in the perfect marriage of sensual design in Randy's luscious jewelry creations. It's romance you can wear. Randy has scoured the earth for inlay materials to harmonize perfectly with center stones, often using materials never before seen in fine jewelry. Very few jewelers can or will attempt this type of inlay. It's so beautiful to look at, but so difficult to do with this degree of precision. The precise blending of exotic colored inlays mean Randy's inlays complement without overwhelming the focal point. Sweeping organic curves and whimsical geometric shapes prove that jewelry doesn't have to sacrifice elegance for light-heartedness. he sculptural simplicity of Randy's ground breaking creations transcend the concept of fine jewelry and becomes a work of modern art. The brilliance of Randy's choice of center stones is only matched by the quality of diamonds that complement them, for an unparalleled combination of luster and sparkle.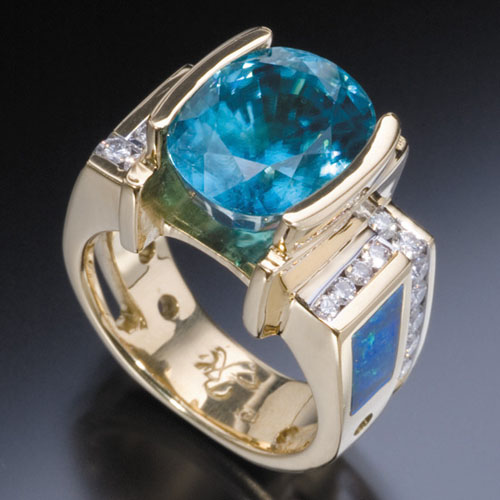 Birthstone of the Month Blogs