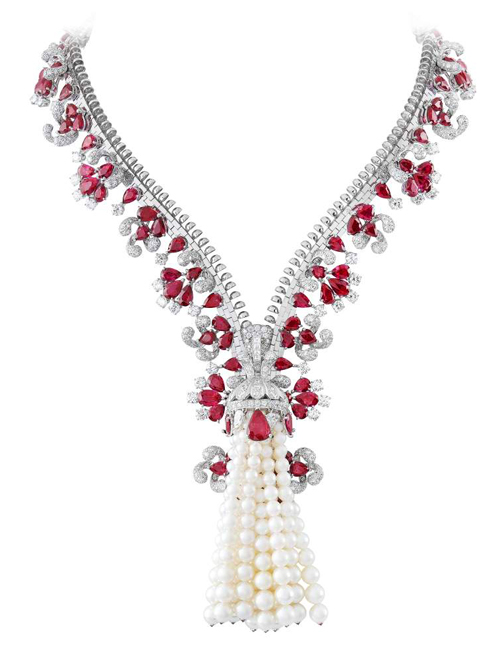 A Gorgeous Selection of Ruby and Diamond Jewelry. The vibrant reds contrast the sparkling white diamonds. The allure of the red ruby has been existed since the dawn of civilization. Rubies have signified beauty and power for many ancient civilizations. We have selected a few gorgeous pieces from master jewelers ranging from Graff Diamonds to Van Cleef & Arpels.
A gorgeous ruby and diamond cuff at Graff Diamonds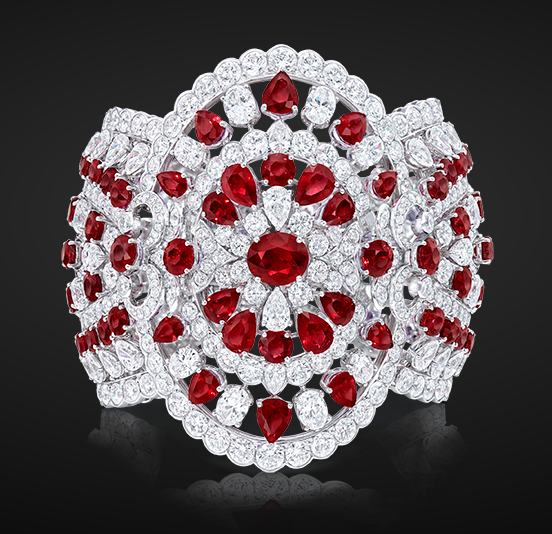 A truly unique piece, it took Graff's expert team of designers, gemologist and Master Craftsmen months to complete this striking jeweled cuff, featuring over 174 carats of richly colored rubies and exquisite white diamonds, with a vibrant 5.01 carat ruby positioned at its heart. Diamonds 83.91cts, Rubies 84.61cts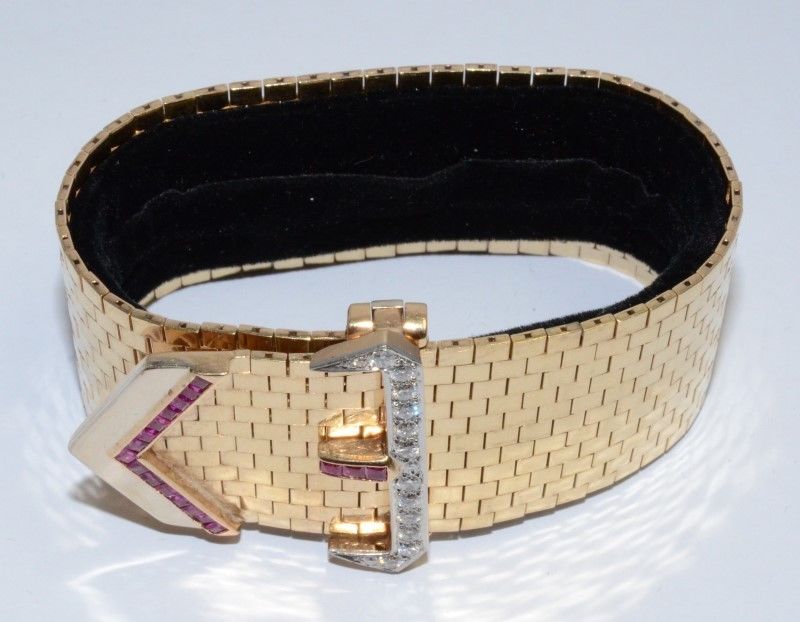 Diamond and Ruby Belt Buckle Cuff Style Bracelet, Solid 14K Yellow Gold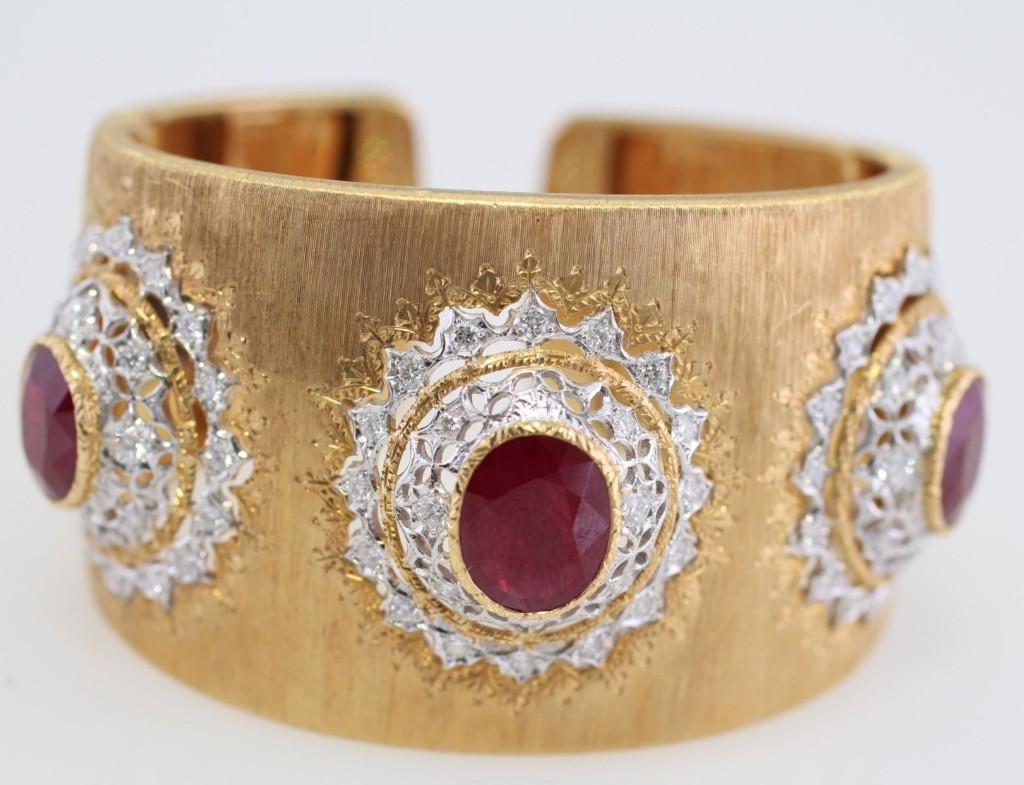 BUCCELLATI 18k Yellow Gold Vintage Diamond and Ruby Flower Bracelet Cuff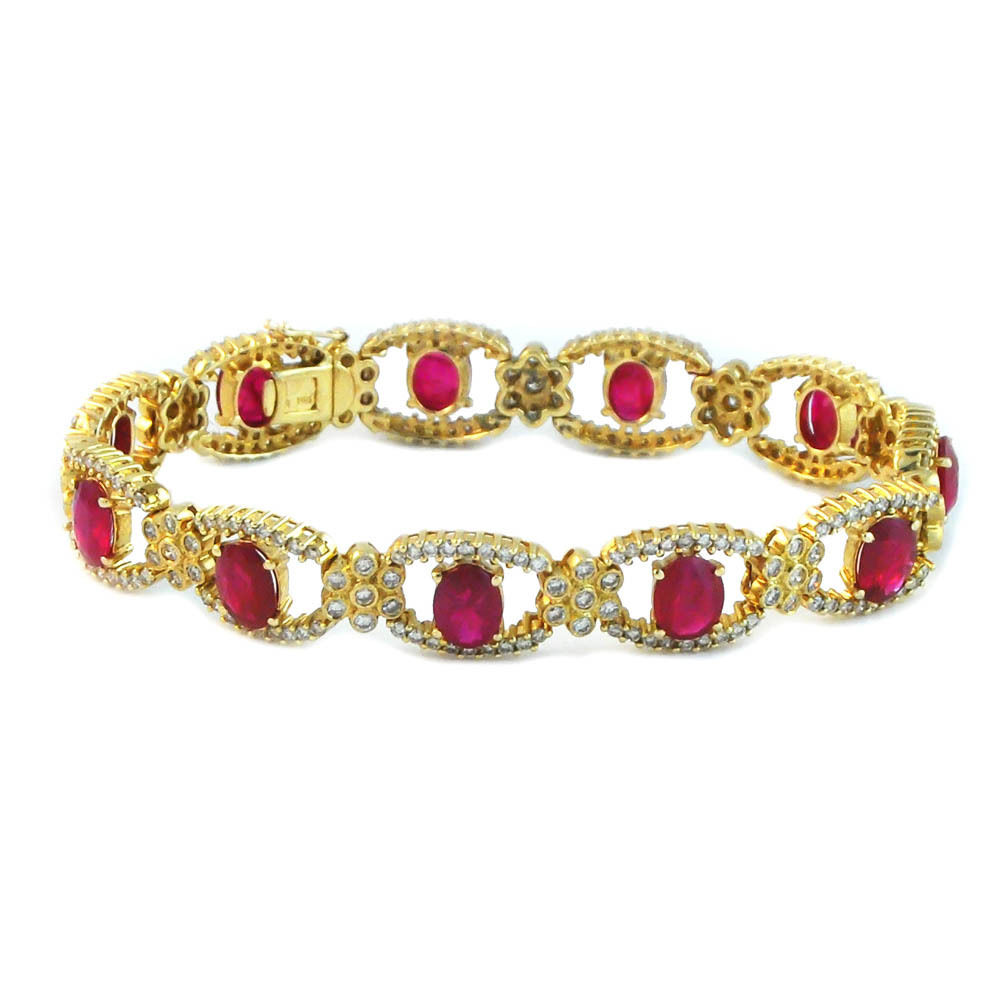 14K yellow gold ruby and diamond bracelet. This bracelet is adorned with 11 oval faceted Burma rubies with a total weight of 14.30cts. The rubies are type II, moderately to heavily included with a medium dark to strong red color. Additionally, this bracelet has 275 round brilliant cut diamonds weighing approximately 3.22cts. Diamonds are SI-2 to I1 in clarity, H/I in color.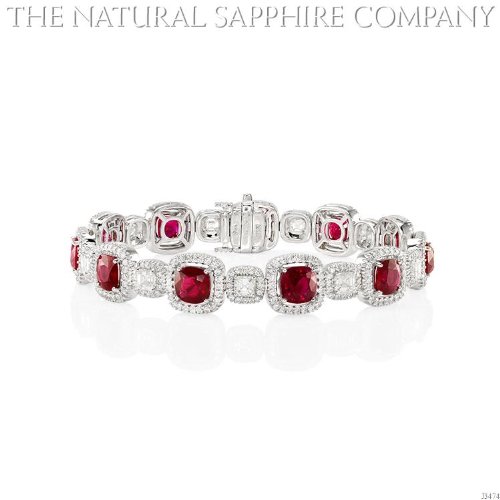 Gorgeous 12.01 Ct Ruby Bracelet with pave diamond 5.39 Ct at The Natural Sapphire Company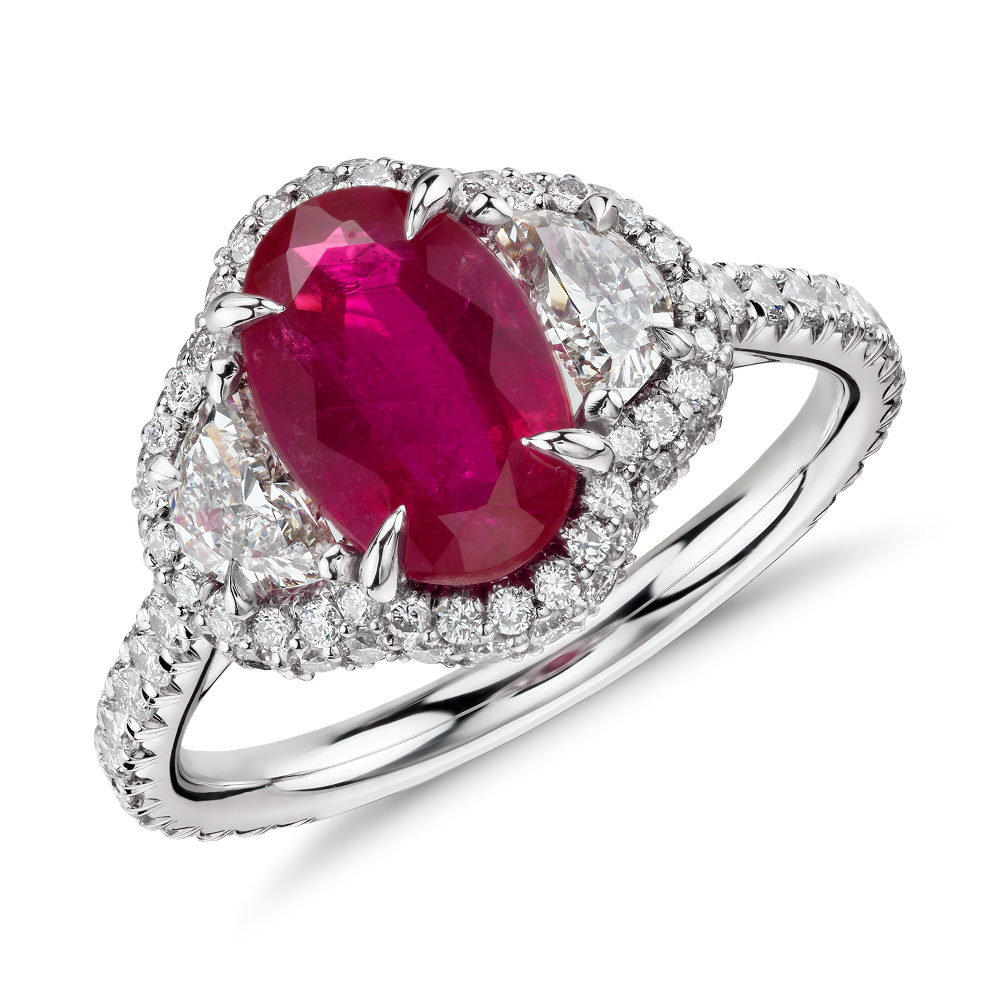 Ruby and Half-Moon Diamond Halo Ring in Platinum and 18k Yellow Gold (2.24 ct)
Uniquely stunning, this gemstone ring showcases a lively, 2.24 carat oval ruby and two brilliant half-moon diamonds surrounded by halo of pavé-set round diamonds framed in platinum and 18k yellow gold. The exquisite ruby is a scarce, non-heated gemstone. Purchase is accompanied by an AGL Prestige Gemstone Report.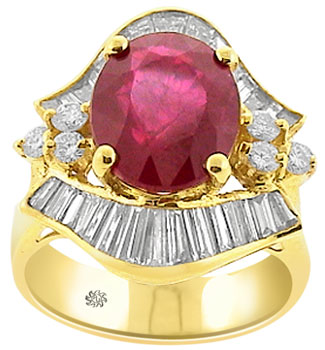 6.40 Carat Oval Cut Ruby & Diamond Gold Ring This highly imaginative ruby and diamond ring was designed to capture your attention. Its impressive styling is highlighted by a gorgeous, genuine oval cut ruby with a massive weight of 4.00 carats. This exceptional ruby has a rich and intense color hue that will leave you breathless. Surrounding the colorful centerpiece are glittering round cut diamonds and baguette cut diamonds. The round diamonds have a total weight of .30 carats while the baguettes have a total combined weight of 2.10 carats. The diamonds range in clarity from Vs2-Si1 with a color grade ranging from H-I. This unique and inspirational ring is made of 18kt. yellow gold with a total gold weight of 12.50 grams.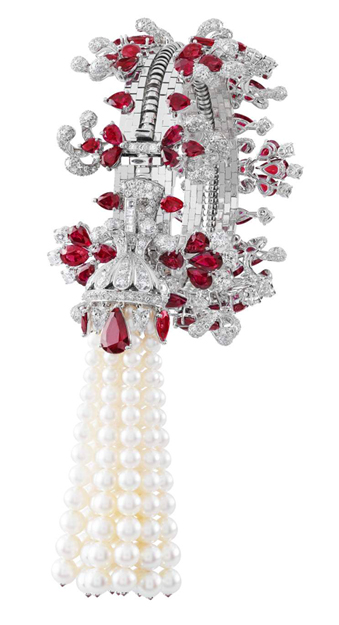 Set in white gold, the Van Cleef & Arpels Zip necklace features rubies, diamonds, and cultured pearls. The Zip necklace's history begins in the late 1930s when the Duchess of Windsor suggested that a zipper be used as inspiration for a jewelry piece. The Zip design can be worn two ways, as a necklace or closed as a bracelet.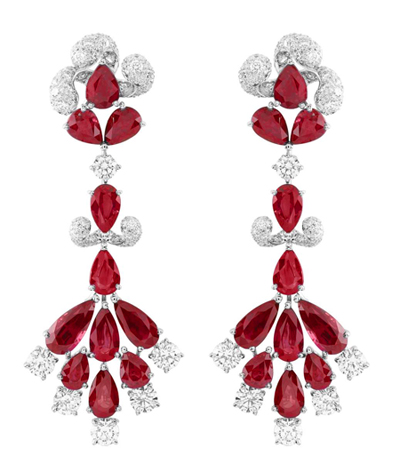 The Van Cleef & Arpels Zip earrings with diamonds and pear-shaped rubies were created for the "Timeless Beauty"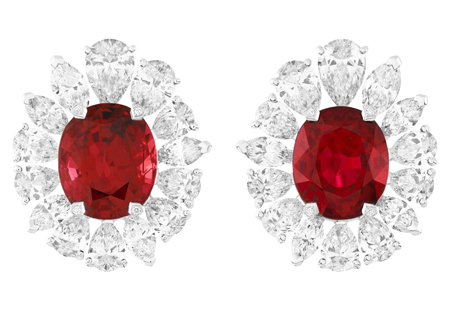 The Van Cleef & Arpels Vermillion earrings feature two matched oval-cut rubies from Tanzania weighing 13.33 and 13.83 carats. The rubies are set in white gold with diamond prongs and pear-shaped and marquise-cut diamond surround.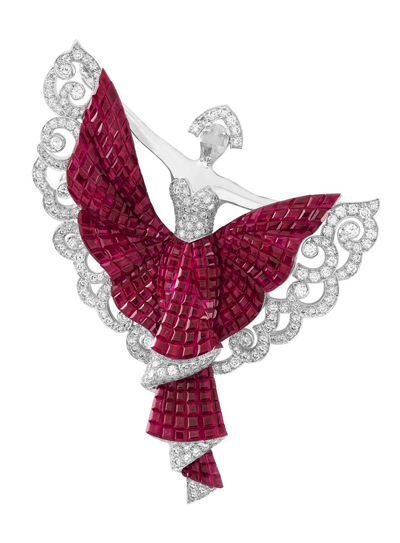 The Silk Road Dancer clip combines the grace of Van Cleef & Arpels' ballerina-inspired jewels with an homage to the Chinese dance drama: Along the Silk Road. The dancer's ruby skirt was created using the Mystery Setting technique, which was patented by the company in 1933.