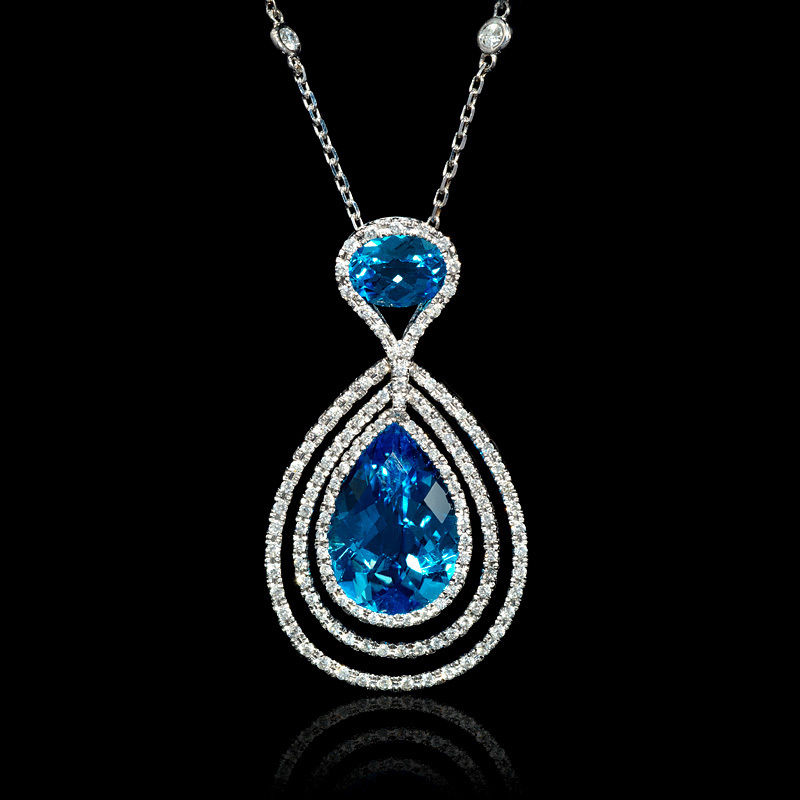 Diamond and Blue Topaz 18k White Gold Pendant
This stunning 18k white gold pendant, features 1 pear cut blue topaz stone, of exquisite color, weighing 9.20 carats total, 1 oval cut blue topaz stone, of exquisite color, weighing 1.60 carats total and 126 round brilliant cut white diamonds, of F color, VS2 clarity, of excellent cut and brilliance, weighing .79 carat total. This charming pendant naturally draws admiring looks.
This diamond pendant is absolutely magnificent, and is being offered here to you at WAY BELOW retail! Don't overpay–we are diamond importers located in the heart of the diamond district of New York!
This diamond pendant measures 37mm in length and 20mm at the widest point.
Please note that chain for this pendant is sold separately. Price:US $2,080.00
Firenze Jewels is located in the heart of the jewelry district in Manhattan . Family owned and operated, they have been jewelers since 1937. Bid on eBay with confidence!
Firenze Jewels is deeply committed to each customer's satisfaction, maintaining the highest standards of ethical operation, honesty, and reliability that have made their company so well-known and successful. For the 12th consecutive year, Firenze Jewels' Jeffrey Levin has been elected by other 47th Street merchants to serve as Chairman of the Board of the Business Improvement District of 47th Street Diamond District, working closely with the Mayor's office, the Department of Consumer Affairs, and other city officials, to uphold and protect the rights of all consumers doing business on 47th Street. They extend this pledge to all of our online shoppers as well.
Birthstone of the Month Blogs