The center diamond is 1.00 carat GIA certified round brilliant. It is very well cut graded at color G clarity VS 1. The accent diamonds weight a total of .25 carats and are of top quality. The ring is made of solid 18 karat yellow and white gold. It can also be ordered in all white gold as well. This is a very elegant ring that brings a little Italian flare to one of my ring forms.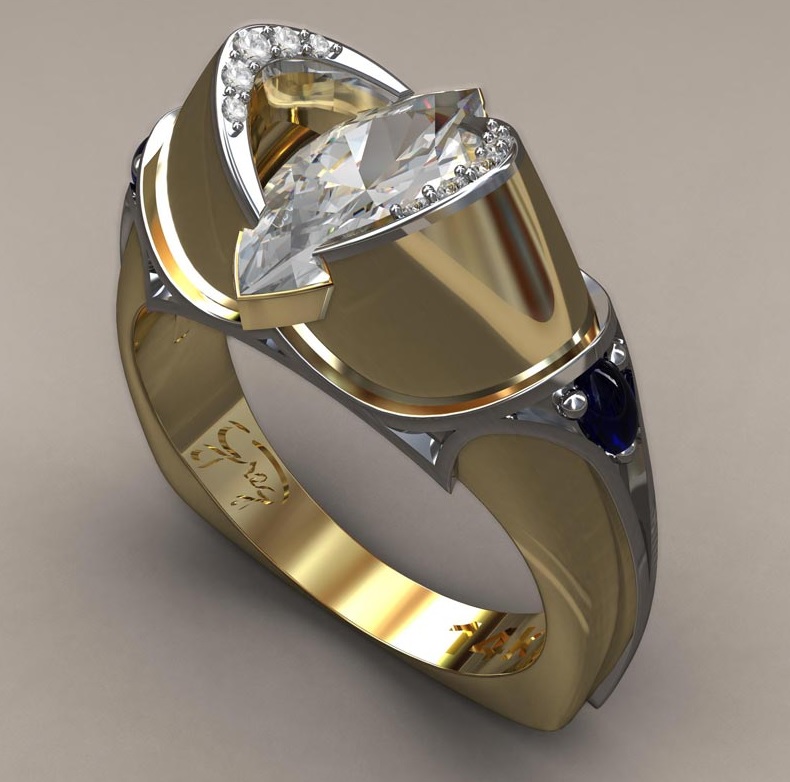 This wedding set is a design that comes from Greg Neeley's past. In 1977 when Greg Neeley began to make gold and diamond jewelry he envisioned this style of ring form. It was very smooth and had a cut in the top but there was no bottom attached to a top like most rings of that era. It was a constant form that flowed all around the finger. This set is very unique in that the marquis diamond is set with the points showing from the top. All stones that have a point like marquis need to have that point protected. The point is fragile and can chip and it can be very sharp and cut the wearer. Greg Neeley has always found it disturbing that the most delicate, and in some ways the most important part of a fancy shaped diamond is covered with a kind of 'clunky' gold cap. Greg Neeley has worked very hard to find ways to show the beautiful points of gems and protect them and the wearer. In this case the bottom of the gem is covered with a kind of seat that protects and shows the points.
The rings are made from 14k white and 14k yellow gold and contain 18 small round diamonds weighing about 1/5th carat total and 4 (two in each ring) oval sapphire cabochons. The Marquis diamond is almost exactly one carat at .97 and is of perfect D color and very nice SI1 in clarity the cut is very good. Watch the video to see all aspects of this design.
Swirl Wrap Suspension Set Ladies Ring

This ring is made of 14k yellow and white gold and holds a 2.3 carat natural aquamarine oval center stone suspension set in a 14k yellow gold wrap around ring with a 14k white gold swirl encompassing the entire ring top. There are 23 diamonds set in the swirl weighing a total of 1/4 carat. This is a simple but elegant and comfortable ring.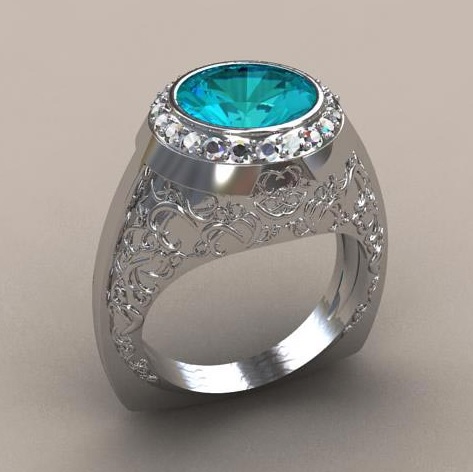 This 18k white gold ladies ring contains one 3 carat incredible aquamarine and 22 small round diamonds. The aquamarine is bezel set and is viewable through the inside of the ring. It is a very elegant finger ring.

Greek Pillar Black Opal Pendant

This pendant is made from 18k yellow and white gold. The 'pillars' around the parameter of the pendant are white gold. The bale (the part the chain goes through) is hinged by a post with a diamond in the top so the pendant can swing left and right. There are 23 accent diamonds in this necklace weighing over 1 carat total weight. The black opal is a natural Australian Black Opal and is of the highest quality on earth. Watch the video to see all the detail and unique aspects of this piece.
This Pendant is solid 18k gold and weighs 2/3 oz. the center stone is a tanzanite weighing 1.28 carats. There are 80 diamonds set around the edge of the heart weighing .80 carat total. The pendant is unique in that the chain goes right through the heart. I have made this pendant in opal as well. Watch the video to see how the chain goes through the heart.

In December 1972, my older Brother Vaughn taught Greg Neeley silver smithing and Greg Neeley made my first ring. After that moment, Greg Neeley was obsessed. Greg Neeley had finally discovered a form of self-expression that resonated within himself. He took a course from GIA (The Gemological Institute of America) on diamonds and other gems and in 1973, Greg Neeley began designing unique silver and gold jewelry. Over the years, he expanded his skills to include hollow ware design, which is the craft of making goblets and pitchers out of silver. And in the late 80's Greg Neeley learned everything he could about sculpture and bronze casting. Eventually he was commissioned to create a life size portrait of the last sitting Chief of the Ute Mountain Ute Indian Tribe and soon after developed a reputation as a sculpture artist creating bronze western and wildlife pieces. The 'emerging species series came a few years later combining sculpture art and jewelry, and from there, the "hotrod giraffe" was born – a brightly painted sculpture bedazzled in gems. The "hotrod giraffe" became Greg Neeley's most successful design prominently displayed in places like Caesars' Palace Las Vegas and at Phyllis Morris Originals in West Hollywood. And while I was successful with the series, deep down I missed making rings.  Greg Neeley now takes all of his life experiences and put them into what he loved making… rings, promise rings, and engagement rings. Greg Neeley is passionate about making wedding rings because a ring is a symbol of two people's eternal love for each other. When Greg Neeley's customers share their stories of love, romance and new beginnings, he is inspired to translate their story into a unique ring that they can wear forever.