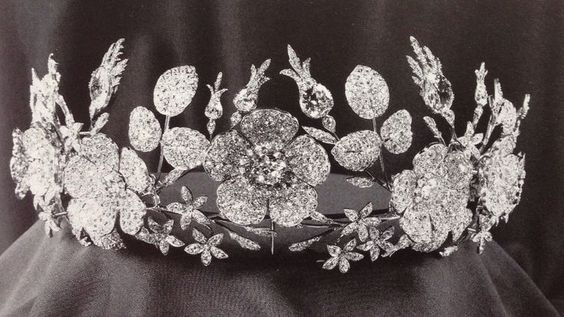 Queen Josephine's Diamond Tiara was recently worn at the 2015 Pascua Militar Banquet, Silver Jubilee of Harald V, King of Norway State Banquet, Wedding Ball for Luis and Amelie , and the 2017 Pascua Militar State Banquet.
One of the two biggest tiaras worn by Queen Sonja of Norway is Queen Josephine's Diamond Tiara, a sizable diadem of floral motifs and laurel wreaths depicted in diamonds and mounted in gold and silver.
It's an old piece, but just how old it is isn't known for sure. Some have connected it to Queen Desideria, born Désirée Clary (1777–1860). Désirée was the wife of Jean Baptiste Bernadotte, the Marshal of France under Napoleon I who was elected King of Sweden and Norway. This connection is speculative, though, and she may never have owned it. We can, however, connect it to Queen Josephine of Sweden and Norway (1807–1876), who was Desideria's daughter-in-law. She was painted wearing the tiara.