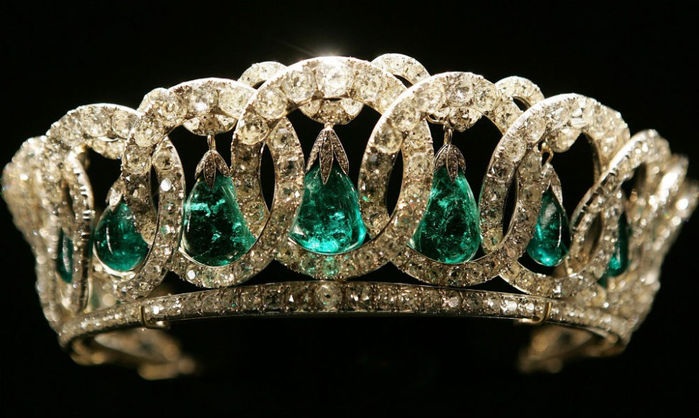 The Grand Duchess Vladimir Tiara, with emeralds
Grand Duchess Vladimir (also known as Grand Duchess Maria Pavlovna of Russia, wife of the Grand Duke Vladimir Alexandrovich) was the aunt of Tsar Nicholas II, who was murdered alongside his family in 1918 by the Bolsheviks. Grand Duchess Vladimir was the grandest of the grand duchesses at the royal court, and she was no fan of the Tsar's wife, Alexandra. So she packed up her magnificent jewel collection and set up a rival court at which she could properly dazzle.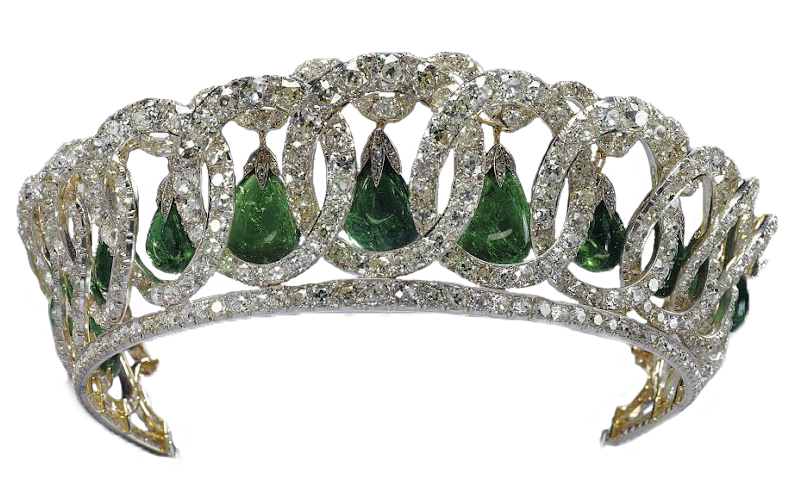 The tiara was sold to Mary along with a diamond riviere for a price of £28,000 with all but £3,000 paid at the time of writing. Anyway, once in Queen Mary's hands, of course she couldn't leave it alone. Mary was in possession of the Cambridge emeralds, a group of around 40 cabochon emeralds which had originally belonged to Indian royalty but had made their way into British hands before being auctioned at a charity ball in 1818. The winner of the auction was Queen Mary's grandmother, the Duchess of Cambridge. Once acquired by Mary, the emeralds were incorporated into new and existing royal pieces.
To the Vladimir tiara, she added 15 stones which originally topped the Delhi Durbar Tiara as an alternative to the dangling pearls in 1924. It was a pretty ingenious idea, actually, as it made a nice mid-sized tiara option to wear alongside the fabulous collection of emeralds that she had once she combined the Cambridge stash with emeralds collected in India during the Delhi Durbar.