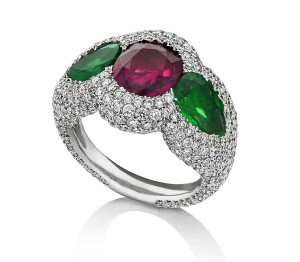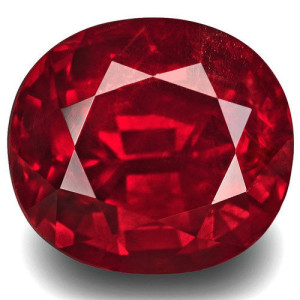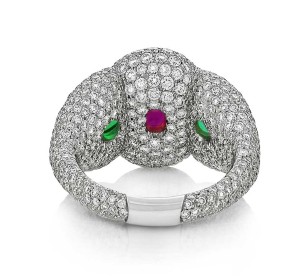 Rubies out of Africa fill the void left by Burmese rubies with their flashes of rich red
With prized Burmese ruby mines virtually depleted, gem hunters have turned to Africa in their quest to find the perfect red gem.
Gemfields, a mining company dedicated to conquering the colored gemstone market, has added a larger number and more consistent quality of rubies to the supply chain, from its Montepuez ruby mine in Mozambique. This new source is having a considerable impact on the global ruby market. Last December, Gemfields reported that its auction of Mozambique rubies raised $43.3 million – the highest in its history.
Gemfields is the world's leading supplier of responsibly sourced coloured gemstones. We specialize in high-quality emeralds and amethysts from Zambia and more recently rubies from Mozambique.
"Our approach has set new benchmarks for environmental, social and safety practices – a fact of which we are very proud. Our direct involvement in each step of the process is unique, and allows us to provide discerning customers the assurance they require of the responsible journey their gemstones have taken from mine, to market."
Ian Harebottle, Gemfields CEO
Ever since gemstones were discovered they have been highly prized — used as adornments and symbols of wealth and power.
Unearthing this precious material is a delicate business and although there have been significant advancements in the methods used; the final stages are still done by hand. It is very difficult to gauge the volume and the quality of a deposit before you mine, and the terrain is often inhospitable and remote, so in order to mine gemstones efficiently you first have to understand the land. This process takes time and experience. At Gemfields we have a team of experts who understand this very unique geology.
This knowledge, combined with cutting-edge technology and the use of the most innovative techniques, means that we are able to greatly reduce the impact of our activities on the environment. We have introduced the world's first underground shaft mine, which vastly reduces the amount of earth removed per carat of emerald and the amount energy required to do so. We have eliminated the use of harmful chemicals in the mining process, and by educating our employees we have been able to reduce our emissions and waste.
AliExpress.com Product – CaiMao 18KT/750 White Gold 1.38 ct Natural Red Blood Ruby & 1.26 ct Full Cut Diamond Engagement Gemstone Ring Jewelry